Eating fruit provides health benefits — people who eat more fruits and vegetables as part of an overall healthy diet are likely to have a reduced risk of some chronic diseases. Fruits provide nutrients vital for health and maintenance of your body.
Fruits are by far nature's most flavoursome sources of nutrition.
A step ahead of fruits are super fruits that also contain unique combinations of antioxidants, phytonutrients and polysaccharides that not only improve physical well-being but also go a step ahead in enabling your body to prevent ailments.
Here, we have outlined the most nutritious fruits that enable you to maintain a healthy body and mind:
1. Apple
Apples are an excellent source of antioxidants, which combat free radicals. Free radicals are damaging substances generated in the body that cause undesirable changes. They are involved in the aging process and some diseases. Some animal studies have found that an antioxidant found in apples (polyphenols) might extend lifespans.
Researchers at Florida State University said that apples are a "miracle fruit." In their study, the investigators found that older women who started a regime of eating apples daily experienced a 23 percent drop in levels of bad cholesterol (LDL) and a 4 percent increase in good cholesterol (HDL) after just 6 months.
 Nutritional value (1 me-dium-sized piece):
2. Avocado
Just one half of a medium-size avocado contains more than 4 grams of fiber and 15% of your recommended daily folate intake. Cholesterol-free and rich in monounsaturated fats and potassium, avocados are also a powerhouse for heart health.
How to enjoy them: Use avocados as the base for a creamy homemade sandwich spread, or add a few chunks to your favorite salsa for a simple and delicious way to dress up grilled chicken or fish.
Nutritional value (1 medium-sized piece):
9g fiber
228 calories
Folate
Vitamin E
3. Banana
Bananas are rich sources of potassium i.e. around 422 mg per piece which help in curtailing high blood pressure. Moreover, they offer a healthy amount of resistant starch (healthy carbohydrate) which boosts metabolism.
 Nutritional value (1 medium piece):
3g fiber
105 calories
Folate
Vitamin B6
Potassium
4. Grapefruit
Although oranges are a great source of vitamin C, grapefruits pack a bigger punch. Just half of a grapefruit contains nearly 50 percent of your daily vitamin C, as well as high levels of fiber, potassium, and vitamin A. Studies have suggested that grapefruit can alleviate the symptoms of arthritis and repair damaged or oily skin and hair. It's little wonder that this delicious fruit is no longer just a breakfast staple. Here are more surprising health benefits of grapefruit (and two dangers to watch for).
 Nutritional value (1/2 cup):
7g fiber
106 calories
Vitamin A
 5. Blueberries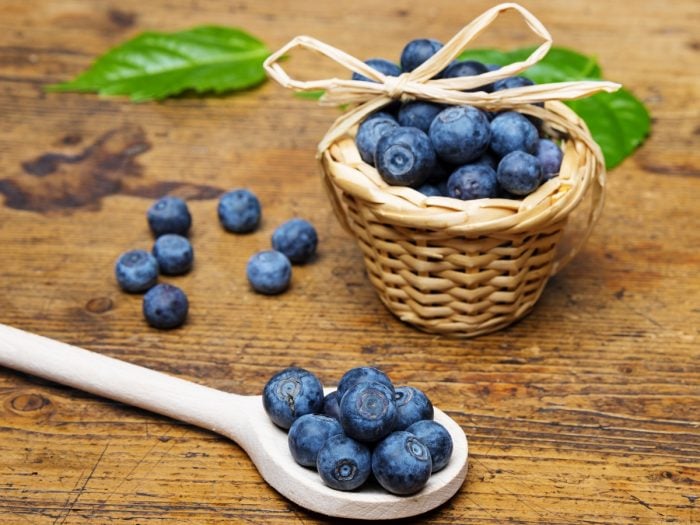 Eating just under a cup of mixed berries (such as red raspberries, strawberries, blueberries) daily for 8 weeks was associated with increased levels of "good" HDL cholesterol and lowered blood pressure—two positives when it comes to heart health—according to a recent study in the American Journal of Clinical Nutrition. The diverse range of polyphenols—health-promoting plant compounds that include anthocyanins and ellagic acid—provided by the mix of berries is likely responsible for the observed benefits.
 Nutritional value (1/2 cup):
5g fiber
41 calories
Antioxidants
6. Blackberries
Blackberries owe their deep purple colour to anthocyanin (a powerful antioxidant) which is thought to protect against cancer and stroke. Its extract is also known to inhibit the growth of cancer cells in lungs and helps in alleviating gout-related symptoms.
 Nutritional value (1/2 cup):
4g fiber
31 calories
Antioxidants
7. Cherry
Cherries contain the highest content of anthocyanin (antioxidant) which lowers cholesterol and triglyceride levels and reduces blood vessel inflammation up to 50%. Cherries also assist in weight loss and relieve pain caused by gout and arthritis.
 Nutritional value (1/2 cup):
5 fiber
46 calories
Antioxidants
8. Cranberry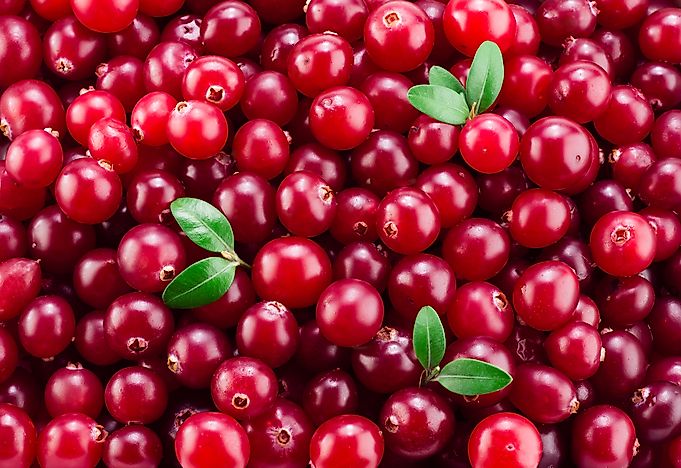 Cranberries are renowned for protecting against urinary tract infections, but did you also know they may improve blood cholesterol and aid in recovery from strokes? Cranberry juice has also been shown to make cancer drugs more potent.
How to enjoy them: Although available frozen year-round, enjoy these tart and tangy berries fresh during their peak season from October through December.
 Nutritional value (1/2 cup):
5g fiber
25 calories
Antioxidants
9. Grapes
As one of the world's oldest and most abundant fruit crops, grapes have been proven to ward off heart disease and high cholesterol, thanks to high levels of the antioxidants quercetin and resveratrol. Each little bulb is also a great source of potassium and iron, which prevent muscle cramps and anemia. Stick with the purple or red kind, as they contain the highest concentration of healthy compounds.
Nutritional value (1/2 cup):
Less than 1g fiber
53 calories
Manganese
 10. Kiwi
Kiwis contain a higher amount of vitamin C as compared to oranges . Beneath its fuzzy skin is a sweet fruit loaded with vitamins C and E, both strong antioxidants that protect against cancer and promote eye health. Kiwis are also low in calories and high in fiber, making them ideal for weight loss. Because they can last up to four weeks when stored in the refrigerator, they are a great snack to keep all year round. Learn more about the health benefits of kiwis.
3g fiber
56 calories
Vitamins C and E
Potassium
Magnesium
 11. Oranges
We all know that oranges are packed with vitamin C, but what some may not know is that vitamin C is crucial for the production of white blood cells and antibodies that are powerful infection fighters
 Nutritional value (1/2 cup):
3g fiber
62 calories
Folate
Vitamin B and C
Potassium
12. Pomegranate
Pomegranate juice has two to three times the antioxidant capacity of red wine or green tea, and is also a great source of potassium, which sustains energy and controls high blood pressure. Research shows that drinking ¼ cup of pomegranate juice daily could improve cardiovascular health, lower cholesterol, and help with erectile dysfunction. However, talk to your doctor before you drink regular amounts of pomegranate juice, as it can sometimes negatively interact with prescription drugs. Top salads with pomegranate seeds for a vitamin-packed meal, or try any of these other healthy salad recipes.
Nutritional value (1 medium piece):
Less than 2g fiber
106 calories
Vitamin A
Potassium
13. Strawberries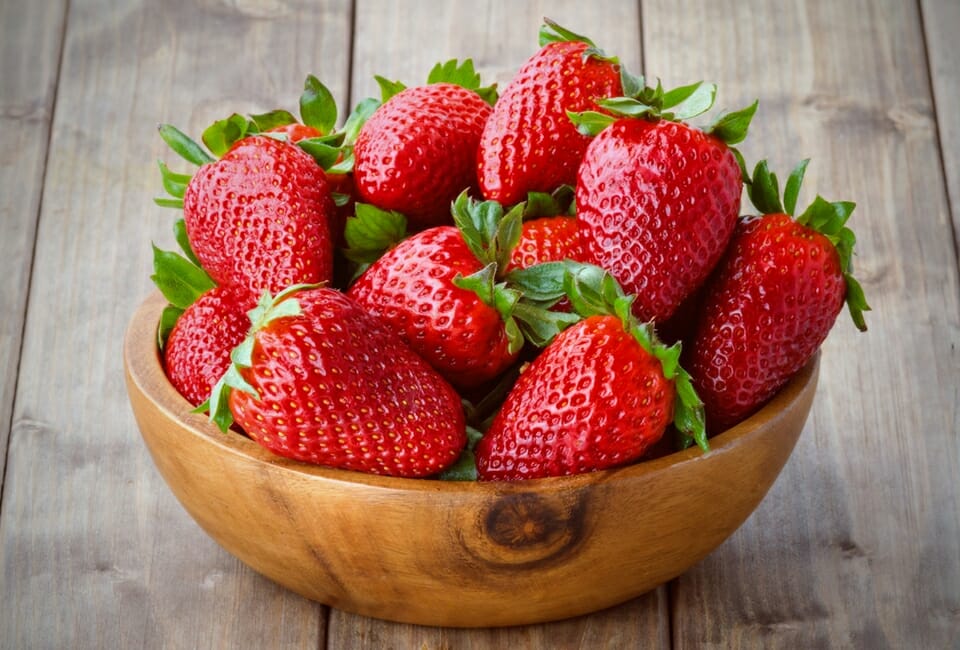 Strawberries are rich in vitamin C, folic acid and antioxidants. They help in protecting the heart from atherosclerosis (a condition of hardened arteries) and inhibit the progression of cancer.
 Nutritional value (1/2 cup):
5g fiber
23 calories
Vitamin C
14. Tomatoes
While tomatoes are filled with antioxidants and Vitamin C, they also contain beneficial phytochemicals such as lycopene, which contribute to chronic diseases—especially cancer.
Nutritional value (1 medium piece):
5 fiber
22 calories
Folate
Vitamin A
Potassium
These super fruits are best consumed unprocessed and can go a long way in preventing ailments if consumed in a balanced manner and on a regular basis.