Detox juice is the nutritious juice that is extracted from fruits and vegetables.
NOTE: Skipping a juice may disrupt your blood sugar levels and cause you to go off the juice detox.
Detox juice is the nutritious extracted juices of fruits and vegetables. It's drank for certain periods to provide your body time to detox itself and lose weight.
The top benefits of a juice detox:
Helps you lose weight quickly.
Improves nutrient absorption.
Promote healthy skin.
Boost Energy.
Cleanse the liver.
Lowers blood sugar levels.
Broadens the range of vegetables you eat.
Improves digestion
Reduces inflammation
How to Make Detox Juice
Each detox juice recipe below is made the same way:
Step 1 – Wash all ingredients well and pat dry.
Step 2 – Cut fruit and vegetables into 1-2 inch chunks. Remove any peels.
Step 3 – Place all ingredients in a juicer.
Step 4 – Process into juice according to manufacturer's directions.
Detox Juice Recipes
Naturally Sweet Green Detox Juice Recipe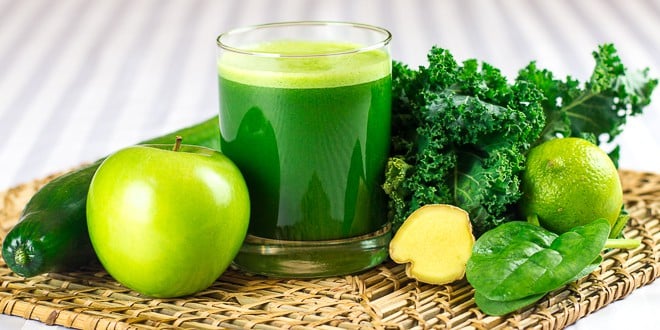 PREP 10 

Makes approximately two servings
YOU WILL NEED
2 cups packed baby spinach leaves
Handful parsley leaves and stems
1 medium green apple, rinsed with core removed
1 large seedless (hothouse or English) cucumber, rinsed
1-inch length piece fresh ginger, scrubbed clean
1 medium lemon
DIRECTIONS
Chop the apple, cucumber and ginger into thin pieces small enough to easily go through the juicer.
Cut away the yellow peel from the lemon, leaving most of the white pith and lemon flesh. Cut into slices and remove any seeds.
Reserve about half of the lemon. Turn the juicer on and push everything through, alternating between the greens and the firmer cucumber, apple and lemon. When everything but the reserved lemon has been juiced, stir the juice and taste for tartness. Add the remaining lemon if you feel it can take it. Or if the juice is too tart, consider adding a couple scrubbed unpeeled carrots or another cored apple.
Tropical Carrot Apple Juice
This is a really delicious drink, and is full of beneficial nutrients such as vitamins, minerals, and antioxidants.
Carrots are an great source of vitamin A in the form of beta carotene. They are also an excellent source of B vitamins, vitamin K and potassium.
The carrot juice is pleasantly sweet, and pairs well with the tartness of the apples. When buying apples, choose firm ones as they will produce a clearer juice.
Tropical Carrot Apple Juice Ingredients:
1 large apple, quartered
1/4 (15 ounce) can pineapple chunks
2 large carrots
2 pieces fresh ginger
Zesty Lemon Apple Juice
In blender, combine lemon juice, sugar and 1/2 cup apple juice.
Allow to stand several minutes.
Blend on low speed 30 seconds (if sugar is not completely dissolved, wait 1 minute, then repeat the process) Add 2 more cups apple juice and the ice.
Blend on low speed 30 seconds.
Lemon Apple Juice Ingredients:
2 lemons, peeled and halved
4 apples, quartered
2 cucumbers, halved
1 cup water